Defeating Ransomware FREE Webinar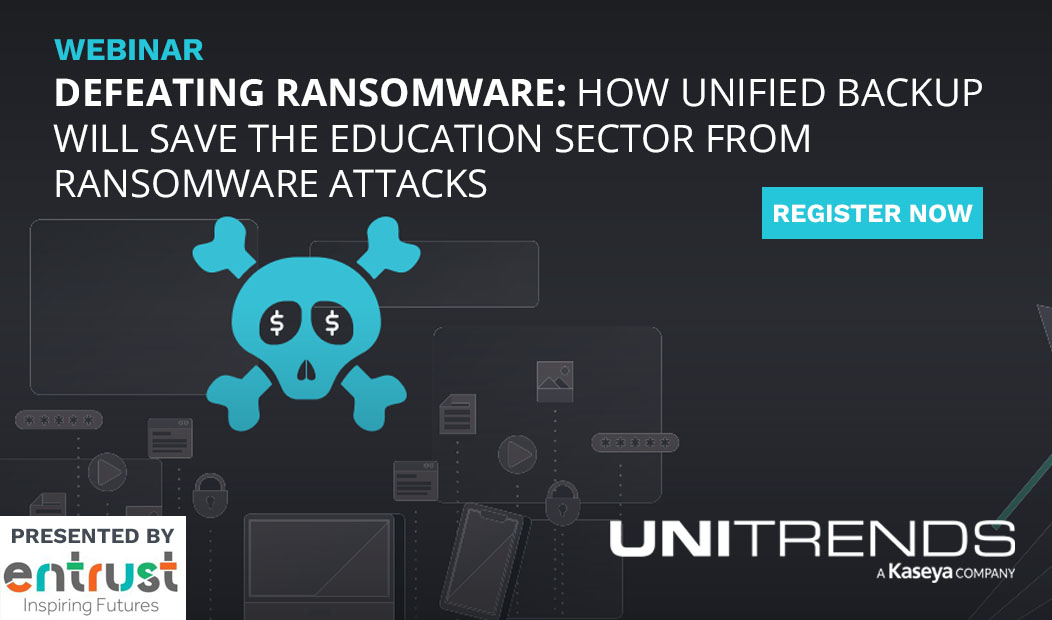 Defeating Ransomware FREE Webinar
Join Entrust on Wednesday 29th June at 2PM
Ransomware attacks soared to new heights in 2021 and the NCSC has alerted that they are responding to further ransomware attacks on the UK education sector by cyber criminals. To help our customers deal with the increasing threat of successful attacks, we're inviting you to the webinar 'Defeating Ransomware:  How Unified Backup will Save The Education Sector from Ransomware Attacks hosted by Unitrends.
 

Backup remains your best defence against ransomware. Join us on

Wednesday 29th June at 2PM,

where a Unitrends expert will break down the

5 key pillars of Unified BCDR. These pillars, when combined, can offer educational institutions the best protection against ransomware attacks and enable 100% proof and confidence in the recovery.
Unitrends makes Backup and Recovery hassle-free. By combining the expertise gained over more than 30 years, Unitrends offers next-generation backup appliances and cloud solutions that are purpose-built to make data protection simpler, more automated, and more resilient than any other solution in the industry. If you're interested in learning more about what Unitrends can do for you and your school, get in touch with us today!
Make an Enquiry
Contact us to enquire about our services