Our Network and Internet service is so much more than just a standard broadband offer.
It comes with a host of value-added services including:
The necessary security and safeguarding measures to keep your learning community safe and aligned to education best practice

Knowledgeable support with over 30 years of dedicated education experience. We understand what it takes to provide the robust, reliable connectivity necessary to manage schools and deliver quality teaching and learning.

One point of contact that covers all your network, internet and business support requirement
 
Assurance that the internet filtering included as part of our service meets DfE 'Prevent' and 'Keeping Children Safe in Education' statutory guidance
What's included in Internet and Network Services?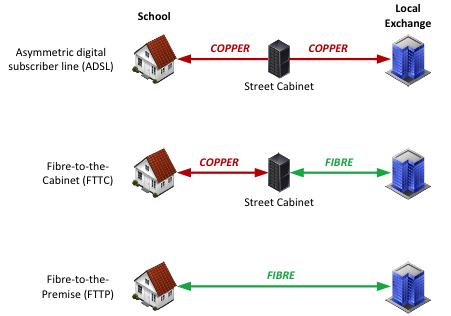 The new Connectivity offering Entrust Connect-Ed, offers flexible bandwidth options from 50Mbps up to 1Gbps.
Our leased line services provide a dedicated connection into your establishment ensuring you receive synchronous upload and download bandwidth. As cloud-based services increasingly represent both the source and destination of school data transfers, a synchronous connectivity service is a significant benefit to uninterrupted teaching and learning. 
An Entrust leased line connection also offers improved reliability compared to connections that depend on legacy copper telephone lines in the last-mile (such as ADSL and Fibre-to-the-Cabinet, also referred to as FTTC).
For connections that rely on copper, the distance between the cabinet and your premises, along with the quality of the copper cabling, will determine your ultimate speed. The greater the distance, the slower your download and upload speeds will be.
A leased line connection is 100% fibre and does not suffer from the same limitations and as such, is our recommended connection type.
What else is included in Internet and Network Services?
Secure Firewall Services
Our centrally hosted next-generation firewall service offers inbound protection against malicious traffic though proactive Intrusion Prevention technology. It also provides increased flexibility around outbound access to cloud-based services and applications through Application Control technology in order to support services that may not be proxy-aware or fully proxy-compliant. 
Education Web Filtering
Education specific internet access is the cornerstone of the Entrust connectivity service; our managed web filtering platform ensures pupils only have access to appropriate internet sites and content, therefore minimising the risk of exposure to inappropriate or harmful material. Other key features of the services include optional transparent proxy access, HTTPS inspection and Active Directory domain integration which allows differentiated filtering policies to be applied based on user identity and group membership.
Domain Name Hosting
Our Entrust can host and manage the domain name used by your school. This domain (usually schoolname.xxxx.sch.uk) represents your presence on the internet and is required for email (MX record), DNS redirection and other services that you wish to present to the world.  
Remote Network Access (VPN)
Secure remote connectivity to onsite systems is a useful tool. Our Virtual Private Network (VPN) service enables staff to quickly and securely connect to your establishment's network from home using any internet-connected Windows or Mac OS X device. Link2ICT offers a number of free accounts as standard. Please see the Entrust Support Portal for application details.
Email Filtering
Entrust provides a managed email security service protecting registered email domains from malicious or inappropriate messaging (such as spam, phishing, malware, viruses and profanity). Email filtering is standard for schools using the Entrust Connect-Ed service or a school hosted email server. 
Network Monitoring Service
The Network Monitoring service identifies and assists with the resolution of IT infrastructure issues in relation to your individual ISP service and Entrust core application servers and services.
Make an Enquiry
Contact us to enquire about our services